The All New 2021 Sportage
As one of the highest-ranking compact SUVs in the industry, the Kia Sportage is a top-selling vehicle that continues to be a popular choice among drivers. Not only does the car offer a spacious cabin for passengers to enjoy, but it also gets great fuel efficiency to ensure you can use the car for long-distance traveling or commuting purposes. If you're interested in discovering all the car has to offer, our Nashville Kia dealership can provide you with more assistance and information when you need something to use for getting around.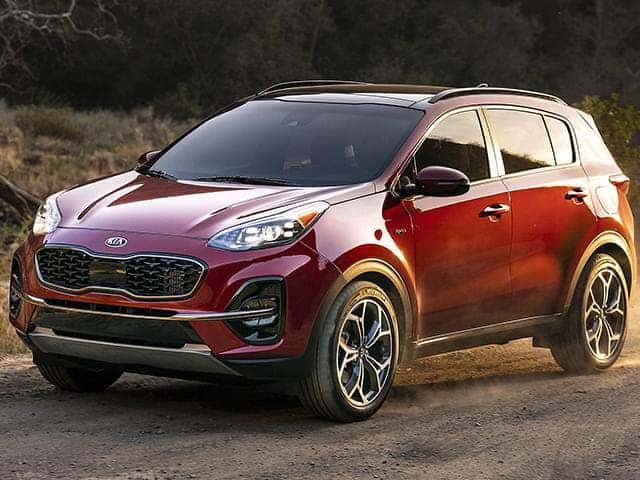 Highlights
With high reliability and adult-friendly seating, the new Kia Sportage proves to be dependable and enjoyable to drive. The high-quality cabin is one of its main draws and offers a high level of comfort with soft materials and few hard plastic surfaces present. The spacious seats accommodate all body types and prevent you from feeling too cramped in the front or back. Drivers will discover it has a balanced ride and features a user-friendly infotainment interface on the dashboard. The SUV has a slightly taller stance than other vehicles in its class and allows you to have more of a commanding stance from the front seat. It even matches the performance and fuel-efficiency of truck-laden models in the industry. The smooth braking makes it convenient to operate to ensure you're more at ease in the cabin every time you need to come to a stop without feeling jolted out of your seat. The car comes standard with a 2.4-liter four-cylinder engine with 181 horsepower, which is paired with 175 pound-feet of torque. If you have more of a need for speed, you can upgrade to a turbocharged 2.0-liter four-cylinder engine with 240 horsepower, which is paired with 260 pound-feet of torque for impressive performance. Despite how quickly it accelerates, the car still feels composed while taking sharp bends and turns without much body roll present. Steering is responsive and doesn't require a lot of effort or strength. This car proves Kia has added more excitement to the model but still prioritizes the composure and control it needs to make it safe and reliable. The electrical assisted steering also feels natural, and the advanced suspension provides consistent comfort on different types of rough and bumpy roads.
New Features
The latest change that has been made to this Kia model is the addition of the S Nightfall Edition and S Nightfall Edition Premium packages, which are now available in S trim. Drivers can have more options for customizing the car to ensure it's specific to their preferences and driving needs. The Nightfall Edition stands out for it's black badging and black interior when you're looking to upgrade to a model that is dark and edgy. The wireless device charging is one of the most useful features in the cabin to ensure you can quickly charge your devices while still having them within reach. The Harmon Kardon Premium Sound System delivers an exceptional listening experience, whether you want to jam out to your favorite tunes or listen to a podcast on your drive.
Safety Features
Many safety features come with this SUV to offer more protection in various conditions. You can take advantage of the Auto Emergency Braking Technology for improved stopping power when you need it most. The Driver Attention Warning also alerts you when you become distracted, inattentive, or drowsy to avoid an accident while behind the wheel. The advanced Lane Keeping Technology will also help you to stay in your lane and will alert you if you start to veer off the road.
When you're looking to purchase a new Kia model, reach out to our Nashville Kia dealership to ensure you can get the assistance you're looking for and have your questions answered by our experts. You can learn more about this compact SUV and how it can provide an exceptional driving experience while scheduling a test drive.