Goodbye Optima Hello 2021 K5
Kia Rivergate – 2021 K5
The 2021 Kia K5 includes a host of features to accommodate drivers in Madison Tennesee while spending time on the road. The model includes the most in-demand tech features to ensure drivers can have more connectivity and convenience. There are many details to review to discover all the 2021 Kia has to offer as it continues to evolve and become more advanced.
Key Vehicle Highlights
One of the highlights of the new 2021 Kia K5 is the unique 12.3-inch digital gauge cluster, which offers numerous themes to choose from to customize the vehicle. It's a common feature available in luxury cars and features an array of vibrant colors. The high-resolution graphics look sharp and sleek and allow you to view the different features of the vehicle as it's in motion in Madison Tennessee.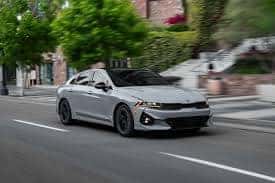 The interior map lights offer increased visibility in the front of the cabin and are easy to turn on and off with a light tap without pushing a button or switch.
Additional features to take note of include:
Ambient interior lighting on the doors and dashboard
Wireless charging pad
Head-up display
Panoramic sunroof
Air purification system
New Features
The new Kia K5 doesn't compromise with the tech tools and gadgets it provides to offer more convenience and connectivity. It offers more multimedia tech than other models in its class for a better driving experience. The vehicle comes standard with wireless Apple CarPlay, Android Auto, and an 8-inch touch screen display. An optional 10.25-inch touchscreen infotainment system is also available for those who are looking for a larger screen that is responsive and easy to use. The screen protrudes from the dashboard and is tilted towards the driver to avoid straining your neck to view the screen while driving the car.
A number of different controls are easy to locate around the screen without reaching too far to adjust the settings. It includes customizable profiles and the option to connect two different devices to Bluetooth. Most of the controls are touch-sensitive for added convenience and usability.
The touchscreen also pairs with the same operating system with updated UI software that is present in other Kia and Hyundai models. The simple menus and buttons offer a user-friendly design and make it easy to learn how to use in minutes.
HD radio and a six-speaker stereo come standard in all trims to enjoy different entertainment options. If you want even more advanced sound while listening to podcasts or music, you can choose to upgrade to the 12-speaker Bose audio system. Two charging ports offer convenience when you need to connect more than one device. Consumers can also upgrade to three additional USB ports, making it a family-friendly vehicle when you have other people in tow.
Safety Features
Safety is also a top priority with the new Kia K5 to compensate for mistakes made behind the wheel and reduce the risk of a collision. Drivers can rely on auto emergency braking technology, driver attention warning, and even lane-keeping technology. It offers an abundance of driver-assistance technology with an available blind-spot monitor and lane-departure warning. Rear-cross traffic alert and forward-collision warning also offer accommodation and improved driver confidence than other Kia Tennessee models.
The most advanced safety features you can rely on while navigating different routes include an upgraded forward collision avoidance system, pedestrian detection, a rear-seat reminder, adaptive cruise control, safe exit assist, and automatic high-beam headlights for more visibility on the road.
Comfort
There are many features in the 2021 Kia that contribute to the interior comfort provided to the driver and passengers, which includes heated seats in the back. The front seats are also ventilated and heated for custom comfort at any time of the year. A small switch in the center console allows you to control the heating or cooling feature on each seat without reaching around the side of the chair to adjust the temperature. A generous amount of legroom is provided in the back, accommodating tall adult passengers, according to caranddriver.com.
The dual-zone automatic temperature control offers increased comfort in different weather conditions to reach every passenger. Available upgrades include a heated steering wheel that is wrapped in leather and power-adjustable front seats.
When you're looking for a Kia Tennessee dealership to visit in Madison Tennessee, contact our Kia Rivergate dealership today to get a firsthand look at the new 2021 Kia K5. Our friendly team at Kia Rivergate can assist you in exploring our large inventory of models and explain our financing options for residents in Madison Tennesee.