All the New 2021 Seltos
Kia Rivergate – 2021 Seltos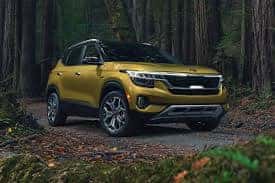 The 2021 Kia Seltos is a competitive subcompact SUV in Tennessee that is packed with a host of features and technology to accommodate the modern driver, whether the vehicle is used for road trips or commuting. Not only does the new model show off a sleek and expressive body, but it also places emphasis on offering more bells and whistles than other makes and models in its class, boosting its value and appeal. There are a few important highlights and features to review to get an understanding of the convenience offered before getting a firsthand look at the vehicle at a Kia Tennessee dealership in Madison Tennessee.
Highlights
The 2021 Kia has been updated and improved from previous generations with new additions that include two different entertainment setups, which are straightforward and easy to access for the driver without reaching too far. A standard 8-inch infotainment screen comes in the vehicle, but drivers can still choose to upgrade to a 10.25-inch touch screen, which is bright and is easy to read when you quickly glance at it while operating the vehicle. Drivers can enjoy the quick response of the infotainment system and how easy it is to use because of the simple layout and designs of the menus. Satellite radio and a booming eight-speaker Bose premium stereo are available for those seeking more enjoyment with their listening experience. The Kia Seltos is also easy to get in and out of with push-button start and proximity keyless entry. You don't have to spend extra time looking for your keys, making it easier to get on the road.
New Features
The new 2021 Kia offers more cutting-edge tech tools and gadgets that allow it to be more advanced than some of the top luxury vehicles in the industry. Some of the newest features that are now included in the new 2021 Kia include Apple CarPlay and Android Auto for connectivity with your different smartphone devices. Drivers in Tennessee will also be impressed by the advanced Bose Premium Audio with mood lighting, which creates a stunning experience while riding in the cabin and a beautiful visual effect. Perhaps one of the most impressive features of the vehicle is the remote connection with UVO link app. Drivers can also enjoy getting a view overhead with the sunroof and use the automatic climate control for increased comfort in different seasons. Upgrades also include two additional USB ports and wireless device charging to keep your smartphones and tablets fully powered while spending time on the road. The amount of room provided in the cabin makes it a family-friendly vehicle with reclining rear seats and a manually adjustable front passenger seat. The Korean ergonomics also offer increased comfort and support to ensure the driver and passengers can feel relaxed and at ease while on long drives. Drivers seeking a luxurious cabin can upgrade to features like heated front seats in low temperatures, as well as synthetic leather upholstery, which adds a regal touch to the cabin. The LATCH connectors in the backseat for car seats are also the top in its class because of how easy they are to find and use when children are in tow.
Safety Features
The 2021 Kia Seltos packs more than enough safety features in its cabin to ensure drivers have more confidence navigating the road and receive more alerts when they're at risk of a collision. The compact SUV comes standard with a rearview camera for increased visibility. The Kia Seltos also proves to be a family-friendly vehicle because it includes a rear-seat reminder to ensure kids aren't left in the back, offering peace of mind to parents. The top in-demand safety features are also offered with blind-spot detection, lane keep assistance, and emergency braking technology to avoid collisions. Driver attention monitoring is also useful to ensure you stay alert and awake while spending time behind the wheel on long drives. The vehicle also offers assistance with driving safer with adaptive cruise control, speed limit recognition, automatic high-beam headlights, forward collision warning, and pedestrian detection. The safety features offer more confidence to the driver and compensate for any mistakes made on the road.
Contact us today at Kia Rivergate in Madison Tennessee to learn more about the new 2021 Kia Seltos and what it offers to drivers who are looking for a reliable subcompact SUV. You can take a test drive of the vehicle at our Kia Tennessee dealership and obtain assistance from our team at Kia Rivergate while selecting your next vehicle to own.